Share the post "Online post-processing and RINEX files from the Orpheon network"
PPK
Corrections in post-processing
PPK (Post Processing Kinematic) to post-process your positioning data with observation data from an observation station. Raw positioning data (without corrections) is stored in the GPS in Rinex format along with satellite observations such as satellite ID, frequency (L1/L2/L5, etc.), constellation, pseudorange, carrier phase, Doppler and signal-to-noise ratios. RINEX (Receiver Independent Exchange Format) as its name suggests is a standardized format for storing positioning and observation data independent of the brand of the receiver and thus making it possible to post-process this data afterwards to obtain corrected positions. much more precise.
Orpheon Online Post-Processing Service
Since January 1, 2019, we have expanded our service offering by offering all our users new simplified online services. Our online application now allows you to post-process your data with computed virtual stations, just like post-processing your data from data from physical stations in the Orpheon network, allowing:
To post-process with data from Orpheon network stations your raw GNSS data recorded in the field in RINEX format, whether physical stations but now also with calculated virtual stations.
Download raw GNSS data in RINEX format from the physical stations of the Orphéon network in order to carry out personalized post-processing. Constant centimetric precision Full GNSS, GPS + Glonass + Galileo + BeiDou
The Post-processing and RINEX hourly packages of the stations in the network
We offer two ways to access recorded data from the Orpheon network.
In each of the real-time subscriptions to the Orphéon network, we have included 50 hours of post-processing (activation on request).
Independently of subscriptions, there are also hourly packages dedicated to post-processing including the downloading of RINEX files from our stations. These hourly packages can be used over 12 months from the date of subscription, without geographical restriction, throughout the National territory (See conditions).
With your RTK real-time subscription
Each real-time subscription* gives access to unlimited "real-time" correction services but also gives access to 50 annual hours of online post-processing and downloading of RINEX files from physical stations in the ORPHEON network, as well as 2 annual hours of RINEX file of virtual stations generated from coordinates specified by THE SUBSCRIBER for deferred time applications: unused hours cannot be carried over to the following year.
*Please note: it is now possible from July 1, 2020 to subscribe to a post-treatment and Rinex option with real-time hourly packages. Only one 60 Hours option is available on the subscription form.
Receive our best offer and prices to easily order the best RTK corrections service.
Free and fast delivery

The flexible offer to take advantage of the performance of the Orphéon network and work in the best conditions without commitment.

Regular meshing and secure data transfer for greater reliability and repeatability on a daily basis.

Choose the duration of your package according to your real need for a reasonable price.
Benefits of the Orpheon Post-Processing Service
Post-processing can be a real added value for GNSS data users and can easily be integrated into your usual workflow. It allows to :
Post-process Full GNSS data: GPS, Glonass, Galileo and Beidou
Work in all areas not covered by GPRS (white and gray areas),
Control the quality of your data for complex or demanding projects,
Increase productivity thanks to a simplified post-processing chain,
Obtain results of optimized quality thanks to a network calculation,
Benefit from directly georeferenced and usable data.
Post-process your data from your specific applications

Just log in with your usual Leica Spider Platform username and password : http://ntrip.reseau-orpheon.fr/sbc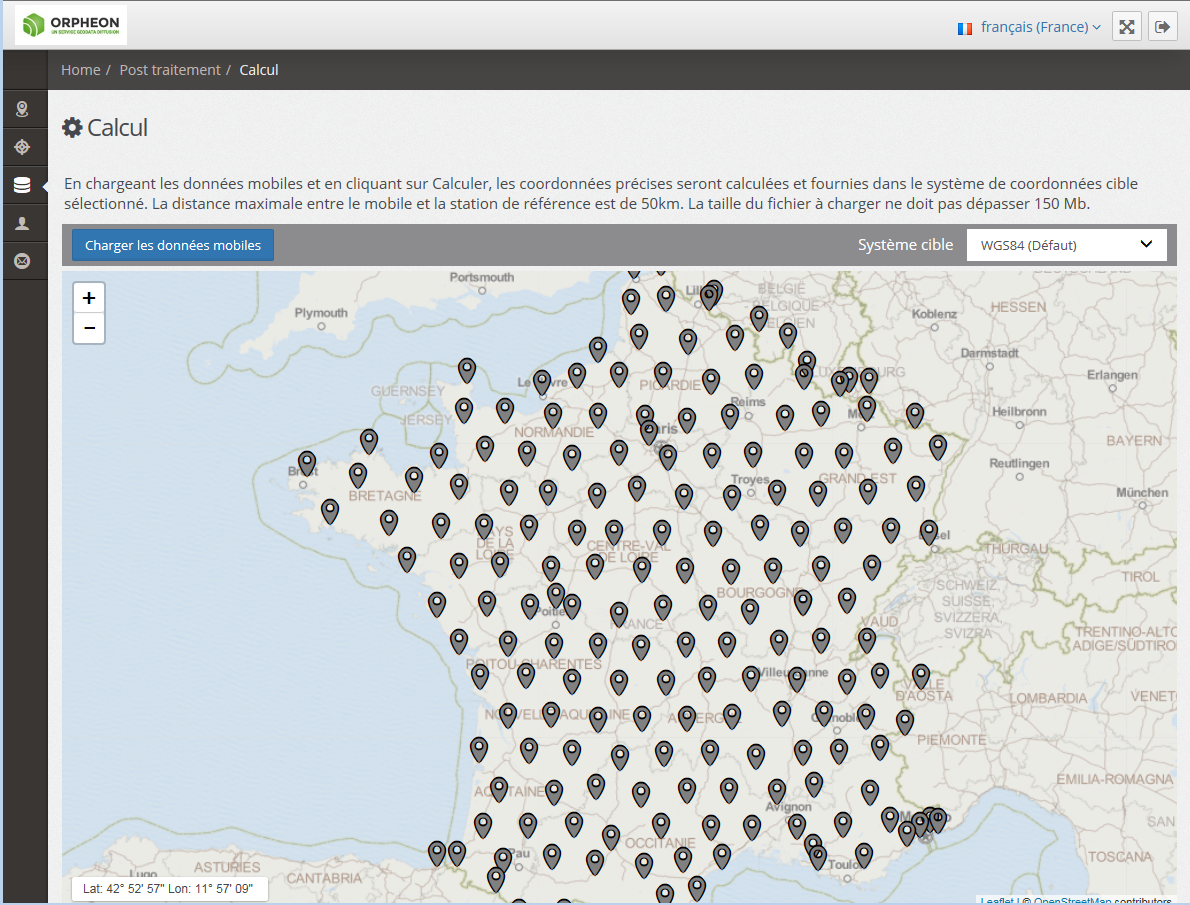 New Online Post-Processing Web Application
A simplified operation in 3 steps
Importing RINEX data from the mobile to Post-Process
Execution of Post-Processing calculations
Calculation report
1-Online post-processing with or without virtual station:
Our online application now allows you to post-process your data with calculated virtual stations, just like post-processing your data from data from physical stations in the Orpheon network. Just log in with your usual username and password.
In just a few clicks, you upload your Rinex file and retrieve your corrected data directly on our online platform: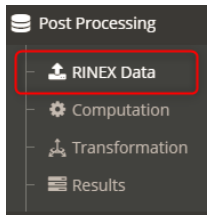 From the Rinex Data Menu
You drop your file and select the virtual Rinex option if you wish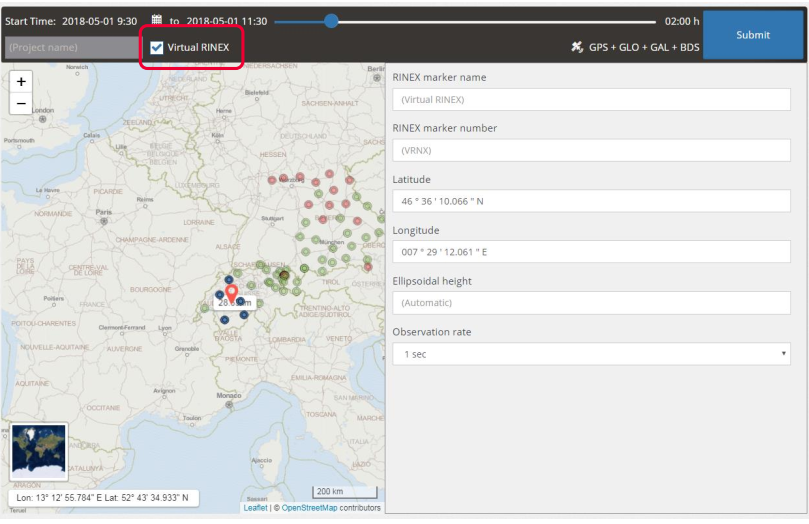 You get your results in a new tab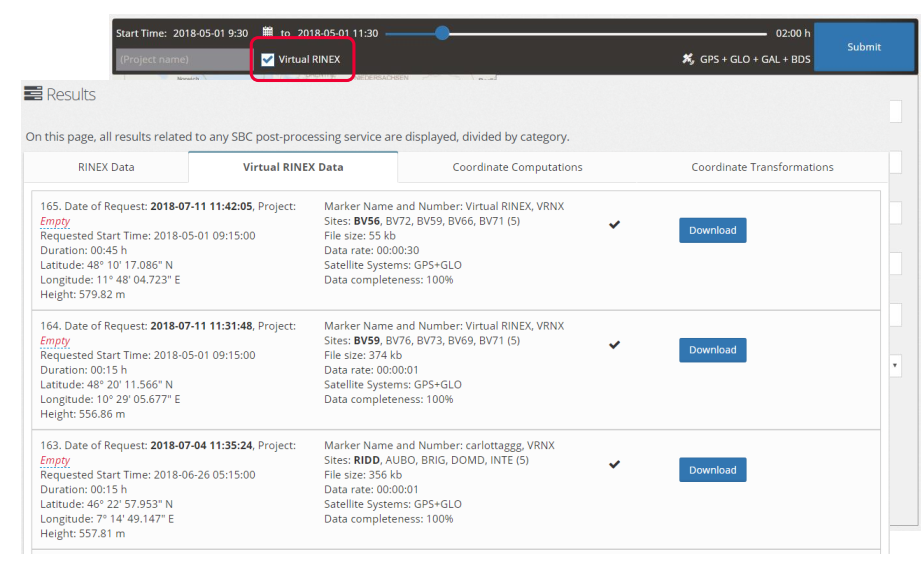 2- Coordinate transformation :
It is now also possible to calculate a coordinate change directly on our online platform :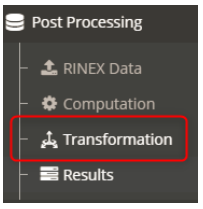 From the Transform menu
You drop your file and select the coordinate system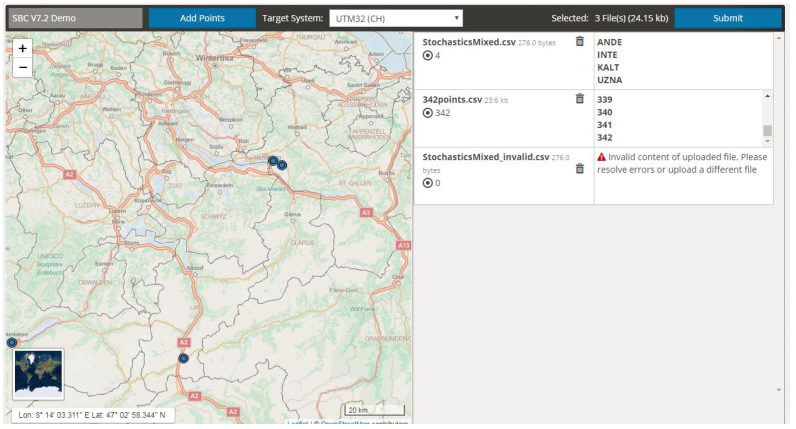 You get your results in a new tab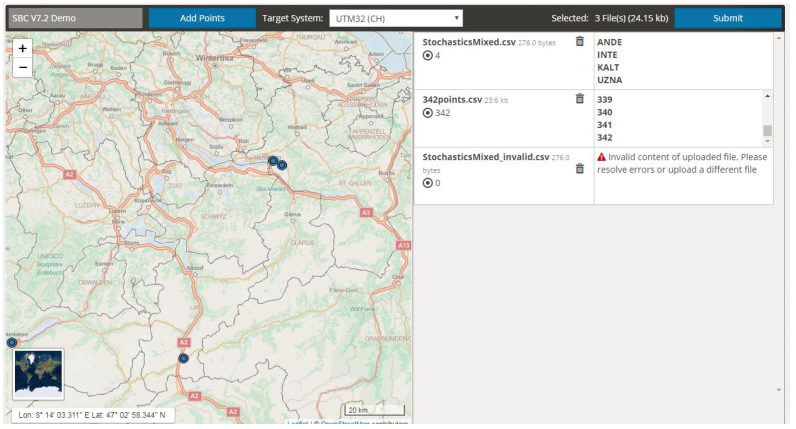 Automate post-processing using the X-Pos Orpheon API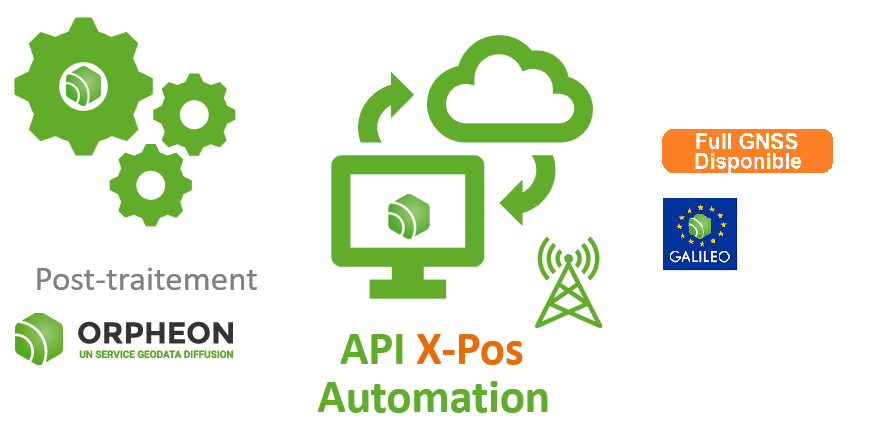 The X-Pos Orpheon API is a RESTful API providing access to the services provided by our Spider X-pos servers.
The Open API specification for RESTful services can be compared to the WSDL of traditional SOAP services. It contains all the data structures and API calls provided by the API. This spec also allows building client SDKs using Swagger Codegen.
For some workflows, the documentation will mention basic details about the parameters that should be passed to calls, but for more details, please refer to the Swagger documentation.
Unlike traditional web services like SOAP, RESTful services do not use XML messages specifying what action should be invoked on the server. RESTful services provide access to resources through defined URL schemes and the various HTTP methods (GET, POST, DELETE, PUT, and HEAD). Additionally, the HTTP request may contain additional information about the resource to be accessed. (There are many tutorials and books on RESTful services and how they work.)
Documentation and testing
the X-Pos API provides its API documentation through an open API specification and Swagger. The documentation is thus accessible online on our official development test server.
If you plan to integrate X-Pos service configuration into your application and need more detailed API information, please contact us directly.
The Orpheon network perfectly suited for post-processing
Homogeneous stations
All the stations are of the same brand to limit measurement noise between sensors, and all are properties of Geodata Diffusion in order to ensure the durability and performance of the system.
A very regular presence, without compromise and without equivalent in France.
The regular geometric structure of the Orpheon network, throughout the national territory, makes it your best asset for impeccable calculation results.
The raw data from each station is recorded and archived on the Geodata Diffusion servers.
Their characteristics are as follows:
Full GNSS; they contain raw GPS, Glonass, Galileo and Beidou data,
Network data logged hourly, available the next hour
Sampled at 1Hz,
Recorded in files with a duration of 15 min.
100% of the territory
100% of Orpheon network receivers
Availability 15 days (7 days for virtual)
Principle of the method
The "NPPK" (Network Post Processing Kinematic) and "PPK free pivot" (Post Processing Kinematic) methods, if they no longer allow the implantation of points due to the loss of their "real time" character, can advantageously be used to survey a large, or even very large, number of points in kinematic mode, including in continuous topography, that is to say by fixed intervals of time and/or distance. They even become essential in any portions of a site not covered by the UHF radio link associated with an RTK base or in areas poorly covered by GPRS/UMTS networks as part of the implementation of the NRTK method.
These methods can therefore be used to:
Survey stationed points over a few epochs.
Reference a survey obtained by optical (topometric) or photogrammetric methods by determining the coordinates of the support points of a local canvas.
Carry out absolute control of a survey obtained by third-party topographic methods (Optical station – kinematic GNSS of the "RTK" or "NRTK" type, especially since a set of reference stations different from that used in the real-time calculation will be used for post-processing). Full GNSS fixes available
The survey is carried out using raw data observed on the rover. Integer ambiguities are fixed in post-processing.
It is then necessary to calculate at the office:
The baselines between the rover and the GNSS network stations in the case of the NPPK method.
The baseline between the mobile and a pivot in the case of the PPK method. The pivot is placed on the construction site in a stationable place according to the prerequisite criteria. Its coordinates in the RGF93 are determined in post-processing according to the "static multi-station" method, "central pivot" or in real time according to the "filtering and averaging of NRTK position" method.
It should also be noted that a virtual station can be used as a hub.
In this case, several physical permanent GNSS stations of the Orpheon network make it possible to calculate the virtual observations in correspondence with the observations which could have actually been made on the position of the pivot that we would have had to put in place. In this case, many operational constraints disappear, such as the need to have a second GNSS receiver, to station it in a secure location or to attach it to the national reference.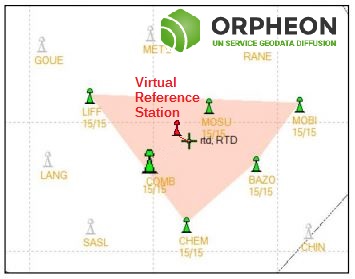 Une station virtuelle peut être utilisée comme pivot.
Full GNSS network and services

100% more satellites
The addition of the Galileo and BeiDou satellites to the GPS and GLONASS satellites significantly increases the number of satellites that can be observed simultaneously by a GNSS antenna.
The addition of the GALILEO and BeiDou constellations thanks to the Orphéon network is not a simple gadget, but the assurance of better daily productivity in the field.
In fact, you can now permanently count on the constant availability of at least 6 additional satellites to bring you real advantages:
Improved positioning quality
More satellites available to calculate its position
Accurate positioning even in harsh environments
Improved positioning reliability
Shorter fixing time
The difference can be seen on the ground
You can therefore always count on the constant availability of at least 6 satellites.
Read our articles
Discover the other offers
A network of distributors
Orphéon subscriptions are marketed also in France by a distribution network of more than 40 agencies, representing all brands of equipment, contact us for a complete list of distributors.