Take advantage now of NRTK Full GNSS corrections on our hourly packages.
The RTK hourly packages that we offer give access to Real-Time GPS correction services in the NRTK Full GNSS network with repeatable centimetric precision GPS + Glonass + Galileo + BeiDou for a volume of prepaid hours to be used over 12 months.
Our flexible formula for a controlled cost with different durations to choose from:
We also offer a post-processing option available on the same – You can choose a GPS+ Glonass or Full GNSS package depending on your hardware.
As an option, you can also benefit from the post-processing package.
Renewals are not automatic (this is the principle of the non-binding package).
We inform you when your consumption reaches 90% of your package or at the beginning of the expiry month.
The flexible offer:
You can renew an existing plan and switch from a GPS+Glonass plan to Full GNSS and vice versa.
There is no obligation to renew your package identically, as well as for the durations.
Renewals are not automatic (this is the principle of the non-binding package).
Packages can be renewed at any authorized distributor in the Orphéon network
As usual, we inform you when your consumption reaches 90% of your package or at the beginning of the expiry month by preparing the pre-filled renewal proposal.
Important :  
In your hardware settings, select the correct mount point to access Full GNSS* corrections or GPS+Glonass corrections.
As usual, this information is clearly indicated in our emails with the delivery notes.
Make sure that your hardware is Full GNSS compatible, that any settings or licenses have been activated.
Receive our best offer and prices to easily order the best RTK corrections service.
Free and fast delivery
Discover the other offers
Discover each of these high-precision GPS correction services in the form of annual subscriptions or hourly packages.
Each of our offers is flexible to adapt to your real needs.
RTK positioning with centimeter precision by satellites
Provide RTK GPS corrections
The Orphéon network is made up of nearly 220 observation stations, spread over the entire territory of mainland France and the West Indies.
All of our stations form a large balanced network that allows us to deliver RTK corrections to our many customers to increase the accuracy of their precision GPS. Our various services are marketed in the form of subscriptions or hourly packages.

The flexible offer to take advantage of the performance of the Orphéon network and work in the best conditions without commitment.

100% Galileo and BeiDou correction services in addition to GPS and GLONASS:
more satellites (+22 Galileo)
faster fixing,
more measurement stability,
more availability,
better positioning
fewer multipaths

In your professional practice, to meet your missions and your obligations, you can rely on the centimeter precision of the Orphéon network.
  Orpheon real-time hourly packages details :
This is access to the centimeter-accurate N-RTK GNSS correction network. Often used to discover our services,
while controlling your budget,
variation of different hourly packages (contact your distributor)
without engagement
without geographic restriction,
choice of Full GNSS or simply GPS and Glonass
available nationwide
compatible with all brands of equipment
Constant centimeter precision
Positioning is repeatable and allows work to be resumed,
Minimal convergence times
RTK network work, the 6 permanent stations surrounding the equipment provide precision correction
RTK network mode, no worries if one of the permanent stations stops, the network compensates.
A web platform allowing access to their account, their subscriptions and the state of the Orphéon network
A Smartphone application offering the same functions as the Web platform
They allow access to "real-time" correction services depending on the option chosen and the connection time chosen (see general conditions).
National throughout the territory
ORPHEON packages provide you throughout the national territory including the Antilles*:
The flow of real-time geo-positioning correction data over the entire territory defined by the commercial offer. These corrections make it possible to improve the precision of geopositioning by real-time differential GNSS methods (GPS and Glonass or Full GNSS) with a centimetric level of precision (N-RTK).
The different packages are available in centimetric quality offers (RTK/NRTK) depending on whether the SUBSCRIBER is positioning himself using the GNSS measurements of the carrier phases or using only the GNSS code measurements (C/A or P), or even on a mixture of the two (code smoothed by the phase).
*For more details, consult our general conditions of sale or ask your distributor for advice.
These hourly packages can be used over 12 months from the date of subscription, without geographical restriction, throughout the National territory (See general conditions).
*Please note: it is now possible to subscribe to an optional 60-hour package for downloading RINEX and Post Processing files online with your real-time hourly package.
Additional services included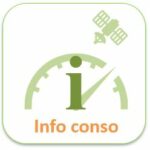 Follow your consumption on your customer area or on our free smartphone application.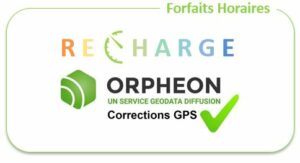 Before the anniversary date, receive the top-up offer to renew at your own pace.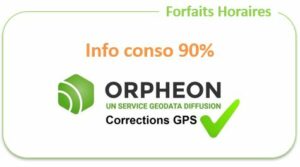 Receive a renewal offer just in time before your credit expires.
The new free Orphéon application allows customers of the Orphéon network to consult, using their connection parameters, various information concerning the services they have subscribed to.
Real-time network status
Your consumption and the time remaining on your hourly package
Status of your Mobile
Real-time network status
Check your NTRIP connection
Your personal information
Your contracts
The remaining credit on your hourly rate
Contact us
Settings
To connect to the Orpheon network, a dedicated Mobile Internet SIM card will be required.
To save you additional procedures and expenses, we have forged close partnerships with the major French mobile telephone operators SFR and Orange. Thus, we are able to offer all Orpheon subscribers a SIM card adapted to the use of the network, in particular by prioritizing DATA flows. These partnerships also allow you to benefit from a high level of service and technical support from operators in order to best meet the specificities of your business.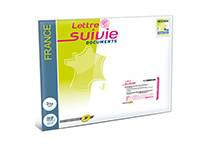 The cards are delivered within 48 hours by tracked mail.
A network of distributors
Orphéon subscriptions are marketed also in France by a distribution network of more than 60 agencies, representing all brands of equipment, contact us for a complete list of distributors.