Orphéon is a real-time RTK Full GNSS precision augmentation GPS correction system allowing users to position themselves with centimeter precision in the national reference anywhere in France and the West Indies with a single GNSS receiver.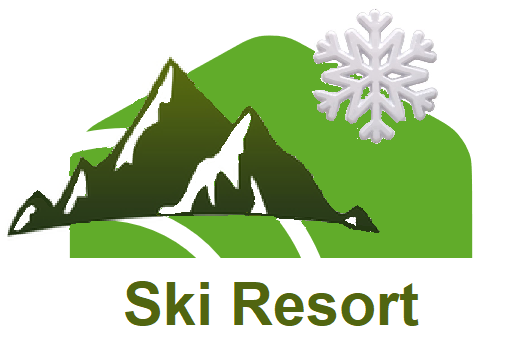 Provide RTK GPS corrections
The Orphéon network is made up of nearly 220 observation stations, spread over the entire territory of mainland France and the West Indies. All of our stations form a large balanced RTK network that allows us to deliver centimeter RTK corrections to our many customers to increase the accuracy of their precision GPS. Our various services are marketed in the form of subscriptions or hourly packages.
Accuracy and availability
Thanks to its precision and the availability of its RTK GPS corrections, the Orpheon network offers increased productivity to all of its users in the fields of topography, construction, 3D digitization, machine control, precision agriculture and bathymetry, but also for new applications concerning autonomous vehicles, drones (UAV) and connected objects (IOT and M2M). Géodata Diffusion continues to develop the quality of its services through personalized support, responsive technical assistance and continuous improvement of its infrastructures. Our objective is to offer customers a secure and innovative service, guaranteeing them a high and constant utilization rate wherever they are, throughout the territory.
GPS Accuracy
The natural position provided by a GPS alone, gives a good idea of ​​where it is within a few meters, but is not precise enough to allow precision work. It requires correction so that its precision is increased and usable in agricultural work, topography, machine guidance or in many other fields of application (see).
Ski resorts management
Sustainable development is now at the heart of farm management and requires more and more precision.
For perfect snow cover management
For monitoring areas in the massif
For accurate mapping of all installations
For prevention and safety programs
For the management of networks traversing the domain
For the preparation and implementation of development projects
Machine guidance
The preparation of the ski slopes requires attention and greater efficiency to which the Orphéon precision geopositioning associated with a guidance of grooming machines responds directly by providing comfort, safety and increased quality.
Safety: Work in very poor visibility conditions (night, fog, snowfall)
Better efficiency: reduction of fuel consumption, costs, carbon emissions.
Greater quality: precise placement of the machines and regularity of the distribution of the snow cover with precise measurement.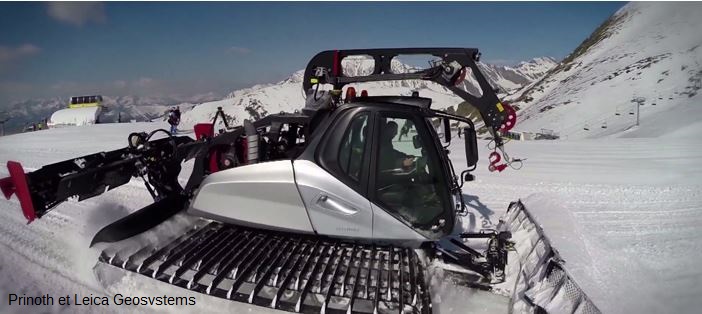 GPRS mobile phone transmission
(3G modem for example) has now proven itself with a national territory coverage rate of almost 99%. It is gradually supplanting radio transmission thanks, in particular, to the additional services it authorizes:
in addition to Orpheon RTK correction services
remote assistance*
telematics*
the download*
(*services offered by manufacturers, in addition to a subscription)
Now available on board (see Extended Flow SIM cards). The possibilities are endless to meet the growing needs of farms. This technology is compatible with all brands of equipment.
The Most Geodata

With an extended flow SIM card, your field notebook or your tablet connected to the internet, for remote assistance, downloading, etc. (Choice of SIM cards)
Cartography surveys, GIS
Today, every drinking water, waste water and water pipe for snow cannons, as well as all cables and conduits are accurately surveyed, mapped and can be viewed at any time.
More precise positioning of networks
Reduced risk of damage
Consultable and shared at all times
But also these cartographic surveys are used to prepare and carry out specific mountain developments.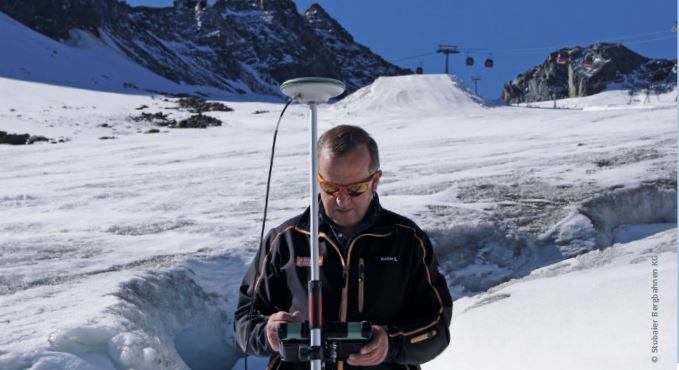 Monitoring of structures and unstable areas
The stability of a slope or cliff can be affected by the following external factors:
climatic phenomena: rain, snowmelt, cyclone, monsoon, freeze-thaw cycle, thermal gradient;
hydrological phenomena: modification of superficial and deep flows, coastal erosion, erosion of the foot of the slope by the bed of a watercourse, rapid reduction in the level of a river at the foot of the slope, flooding, impoundment of a blocade ;
phenomena that are sources of vibration: earthquake, vibration linked to mining activity or the presence of infrastructure;
anthropogenic actions: earthworks at the foot of the slope, overloading at the crest, insufficient control of water discharges and surface runoff. The presence of water, through the development of pore pressures in the unstable mass of soils or rocks, is often considered to be the preponderant triggering factor.
Reasons for setting up a monitoring system:
Safety of installations and populations
Warning and risk prevention systems
Maintenance and renovation program
Development plans, reforestation, grassland
Watershed management
Ouvrage d'art
Monitoring the phenomenon of aging of engineering structures consists of identifying and then monitoring the signs that reflect this aging and monitoring the effectiveness of the measures implemented to control it. Depending on the nature, structure and classification of the works concerned, various monitoring programs are put in place; either by regular inspection visits, or by the installation of permanent monitoring means.
Unstable areas
Similarly, the monitoring of unstable areas consists of identifying cracks and shifts in the ground. tracking of ground movements using GPS measurements is carried out in the most active areas. These measurements made it possible to know that the earth moves in places by 80 cm per year on average, imperceptibly.
Drone interventions
The intervention of the Drones makes it possible to carry out on areas covering several hectares very quickly by avoiding operators or surveyors to move on foot with their heavy measuring equipment and thus carry out hundreds, even thousands of measurements and shooting. In addition, the drone makes it possible to carry out surveys in dangerous areas and thus prevent people from exposing themselves to these dangers, this may be the case in quarries in the presence of construction machinery or even in unstable areas. as in landslides, which makes it possible to assign them increasingly varied professional missions, particularly in GIS.
The Premium Orpheon offer
These subscriptions give access to unlimited Real-Time correction services in the NRTK Full GNSS centimetric repeatable GPS + Glonass + Galileo + BeiDou network.
The non-binding offer
This is access to the N-RTK GNSS correction network with real-time centimeter accuracy (GPS, Glonass). Often used to discover our services.
The 3D control offer
This is access to the N-RTK Full GNSS correction network with centimeter precision (GPS, Glonass, Galileo, Beidou). Often used to control the accuracy of its measurements or even for areas where a mobile internet connection is not available for real time.


Benefits
In your professional practice you can count on the knowledge, the know-how and the centimetric precision of the Orphéon network to meet your missions and your obligations. The network has been thought out and designed according to the rules of the art, it is constantly monitored and checked regularly. (The network-Orpheon). Everything has been thought out to allow you to benefit from increased productivity.

With the Orphéon network, you work with identical precision throughout the territory thanks to a uniform distribution of stations in metropolitan France and the West Indies. Whatever your position, the distance from the nearest reference station is never more than 30 km.

The addition of the Galileo and BeiDou satellites to the GPS and GLONASS satellites significantly increases the number of satellites that can be observed simultaneously by a GNSS antenna, thus offering increased positioning quality.

Choose your area of ​​coverage and your duration of commitment according to your real need for an adapted price and discounts

RTK precision positioning geo-references your measurements or photogrammetry images in one step in real time to save production time. Or even as a control tool thanks to the post-processing available online.

A regular mesh and a reinforced infrastructure for you to secure data transfer, for greater reliability and repeatability on a daily basis.

The availability of the service gives the possibility to work from day to night, in foggy weather etc. by focusing their attention on the GPS guidance tool and no longer on driving for an always impeccable result

Thanks to the mobile internet connection, you are not limited by the range of radio systems and you do not have to deal with questions of frequencies or interference. The time saved allows you to multiply the work and concentrate on your production.

With Orpheon, preparation work is reduced to a minimum and you can start working faster. No pivot deployment to plan or monitor.

Choose your area of ​​coverage and your duration of commitment according to your real need for an adapted price and discounts