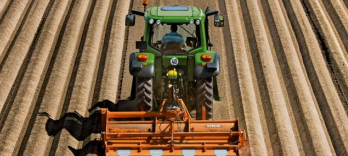 Indeed, depending on the work carried out, it is sometimes essential to be able to be guided and positioned to return to the same places with precision after several weeks. While for some other work relative point accuracy is sufficient.
Relative Accuracy
It is the precision with which it is possible to return to the same place after a certain time. It is then common to speak in precision agriculture "pass to pass", the "standard" duration between the 2 passes being 15 minutes (P2P 15 minutes in the jargon for "Pass to Pass 15 minutes")
Absolute precision
It is the precision with which it is possible to return to the same place without time limit, from one year to another or from one cultural intervention to another. For all the cultivation practices requiring to go back on the row, it will be necessary to consider this absolute precision under penalty of having to recalibrate its guide lines, as long as visual elements allow it.
Orpheon, what for ?

Repeatability:

The Orpheon network offers you real-time RTK GNSS corrections which are the only corrections whose centimetric precision systematically allows you to return to the same place month after month.

Absolute precision:

Due to its stability and availability, it is the solution that offers the most possibilities and flexibility in terms of the type of work that can be performed, but also the greatest availability and accuracy of corrections over time, for all the work of the more common to more demanding jobs. Orphéon allows you to obtain precision adapted to each of your needs in all circumstances:

NRTK: Absolute accuracy of 2 cm.
No signal drift
Receiving Instant Corrections

National coverage:

The Orphéon network covers the entire metropolitan territory, its unique dense network means you are never more than 30km from a reference base station.

Click on the map to access the interactive network map

Availablity :

A reinforced structure:

The Orphéon correction service is particularly suited to the needs of agriculture. The network mode makes it possible to receive corrections of excellent quality and to work continuously even if the nearest station is stopped. All of our computer facilities are duplicated in different locations to ensure continuous service.

Additional satellites:

The addition of the Galileo and BeiDou satellites to the GPS and GLONASS satellites means that you can always count on the constant availability of at least 6 additional satellites to bring you real advantages:

More satellites available to calculate its position
Precise positioning even in difficult environments (near trees or buildings for example)
Improved positioning reliability
Shorter fixing time
The Precision Agriculture offer
A specific offer of packages and subscriptions corresponding to your needs and adapted to your operation.
Mobile Internet access
To save you additional steps and expenses, we have forged close partnerships with the major French mobile operators SFR and Orange to provide you with SIM cards for mobile internet at the best conditions.
Network and subscription monitoring
The free Orpheon application gives you access from your smartphone to a large number of very practical and complementary features of your subscription or package.