A whole range of services adapted to your needs
Discover each of these high-precision GPS correction services in the form of annual subscriptions or hourly packages.
Each of our offers is flexible to adapt to your real needs.
Everything has been thought out to allow you to benefit from increased productivity: with Orpheon, the preparation work is reduced to a minimum and you can start working more quickly.
In order to offer offers perfectly adapted to the needs of users, we have designed several subscription formulas. Our commercial offer is very clear and very flexible. So, in complete transparency, you only pay for what you really need.
A commitment to quality and precision:
We share the same requirement
Quality is our priority, so all our geo-positioning precision augmentation service contracts guarantee:
A precision greater than or equal to 2 cm on the planimetric components Lambert 93
An accuracy greater than or equal to 3 cm on the IGN69 altitude
The means implemented to ensure its availability and stability.
Recovery times in the event of damage (24 hours in Metropolitan France and 48 hours in the West Indies) directly under the responsibility of Geodata Diffusion.
Need a service for a short time?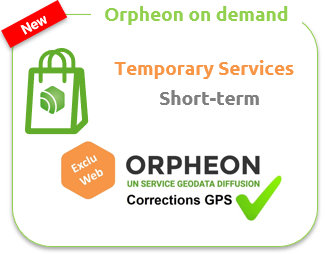 We have just opened our e-commerce site to allow you to quickly order our one-off short-term services.
A network of distributors
Orphéon subscriptions are marketed also in France by a distribution network of more than 40 agencies, representing all brands of equipment, contact us for a complete list of distributors.