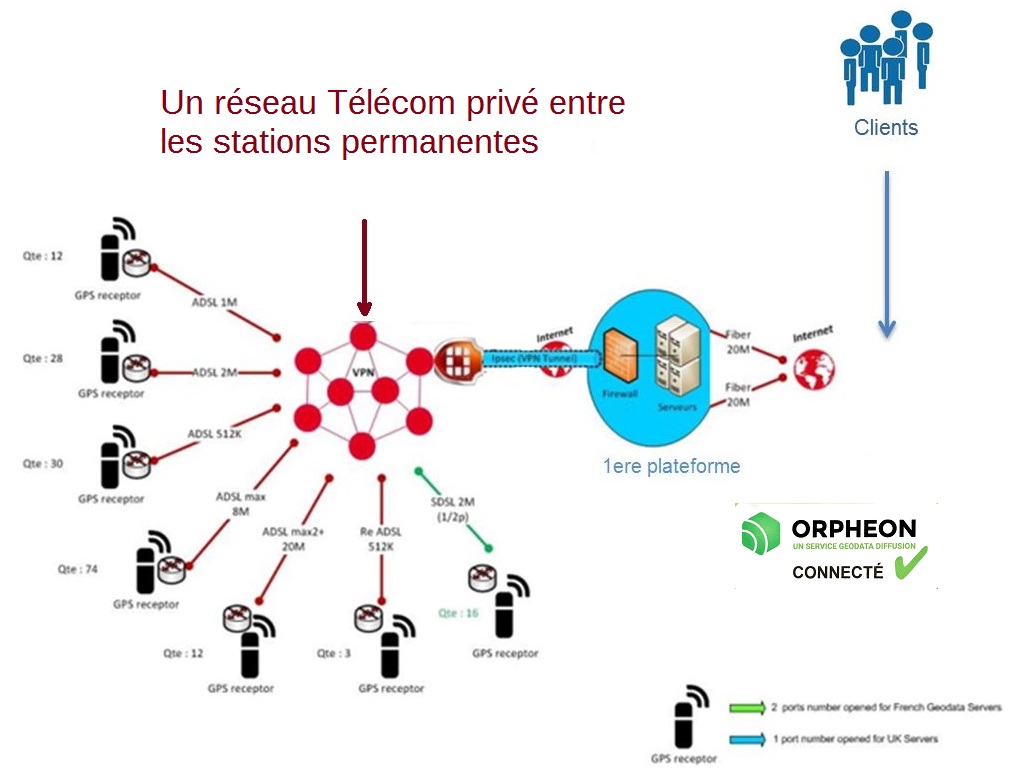 Guarantee real-time availability
To be able to offer the best rate of data and service availability, we have optimized our infrastructures and implemented leading technical solutions with an MPLS (MultiProtocol Label Switching) infrastructure, which is an end-to-end private network, which does not does not travel over the Internet. As corrections are disseminated in real time, it is essential to have better infrastructures to guarantee all data flows:
The streams from our stations to feed the servers
The incoming and outgoing feeds of positions and corrections of each user
the user's mobile must receive at each measurement period (typically every second) the "corrections" corresponding to its work area, even when it is moving. These corrections reach each user continuously by GPRS with an average delivery time of 750 ms, the standard deviation, i.e. the deviation from the mean for 68% of the corrections sent, also being of this magnitude. In order to keep the system consistent, there is therefore less than 250ms left for:
Receive observations from permanent stations on the computer center
Make them temporally consistent
Calculate "corrections"
Send "corrections" to user
We have therefore chosen a very efficient infrastructure
The implementation of this telecommunications network guarantees us the lowest possible latencies (data transmission time) between the permanent stations of the entire network and the computing center.

Goal: Have the lowest latencies

This uncompromising choice, in order to put the user's mobile in the best possible situation by allowing it to receive as many corrections as possible in the most fluid and continuous way. The load rates of a private network are guaranteed by the telecom operators offering this type of service. Such a network is also much more available than the Internet, the redundancy of the links being provided by the operators in charge of its operation.

In the chain of transmission of corrections:

The GPRS link between the GPS and our servers makes it possible to route 95% of the corrections with a latency of between 0 and 1.5 seconds, hence the capital importance of this proprietary network in terms of latency. A rover configured in interpolated mode ("accuracy" mode at Leica, "forecast" at Topcon and "Low Latency" at Trimble) can typically last 3 seconds without receiving corrections.

Why is an ordinary Internet connection not enough?

The Internet is a network that pools resources for all users, on the principle of "best effort", even if the performance deteriorates very sharply. The use of the Internet is therefore not relevant here, insofar as we wish to guarantee and control transmission times (latencies). The Orphéon network therefore does not undergo these "slowdowns" in order to be able to perform its correction calculations.
Full GNSS infrastructure
With the idea of ​​reducing transmission times (latencies) as much as possible and increasing the availability of our services, powerful and reinforced machines used to calculate the NRTK correction, now Full GNSS, are hosted in a Datacenter located at the heart of the network of our telecommunications operator, that is to say as close as possible to its own machines. The infrastructure and correction calculation software allow us to deliver "Full GNSS" corrections (GPS + GLONASS + Galileo + BeiDou)

Infrastructure designed for service performance
No loss of time between reference stations and servers
Powerful computing servers
Optimized data paths
Lowest latency times
Services always backed up with the same performance

On this Datacenter, each element of the network (GNSS sensor, station modem, inverters, etc.) is "seen" as if it were locally and is able to independently send all the information necessary for its proactive maintenance.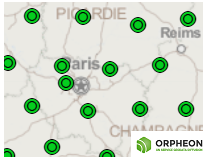 Evolution of network security
Level 1 security

A secure installation from the start

In 2006 during the creation of the infrastructure, the first platform received all the necessary attention so that all the equipment of the platforms but also the internet links are duplicated

Owner of all equipment
Internet links are duplicated
The servers are doubled
Connection and patching equipment
Supplies are doubled and backed up
Reference stations connected in VPN on a private network

Level 2 security

In 2016, the installation of the second platform and the implementation of an address server (DNS) made it possible to strengthen the availability of corrections but also to share technical support within an expert and dedicated.

Installation of a second platform
Adaptable virtual machines on demand
DNS address server for a serene failover
Shared technical support

Level 3 security

In 2017, the installation of a 3G/4G modem on our reference antennas makes it possible to double the VPN internet connection and reduce the connection problems that an ADSL or SDSL line may encounter.

doubling of reference antenna connections: ADSL + 4G connection
Two redundant calculation lines
At the heart of each platform, two perfectly redundant and separate computing lines are installed in order to guarantee the continuity of service according to the equipment used by our customers.

The Spider Leica calculation line has its 2 separate servers

The vital elements of each machine are also doubled (processors, hard drives, RAM units, power supplies, network cards). These computing lines are powered by two independent electrical feeds, themselves corrugated and backed up by generators and battery rooms. They are also cooled by two independent air conditioning lines.

A second platform

A second platform equipped with virtual machines (VM) has been set up in a different location from the data center of the first platform in order to guarantee permanent access to geo-positioning correction data in all circumstances. This solution also makes it possible to benefit from resources and scalable equipment available according to our needs and the growth experienced by the use of GNSS geo-positioning correction, particularly in new markets. This second platform is an identical copy of the first platform and overcomes all problems relating to internet connections.

High availability of Orpheon services
A main platform with reinforced security
A backup platform in another data center

DNS address server

Since our two infrastructures are independent, a different IP address is assigned to them. Thus, any switch from one platform to the other would involve reconfiguring your GNSS hardware with another IP address. To avoid such a procedure, we have set up a DNS service (Domain Name System) which will perform the change of IP address automatically. Thus, in the event of maintenance or a problem requiring a change of infrastructure, your GNSS equipment will automatically connect to our services. The establishment of the address server (DNS) thus makes it possible to switch when necessary from one platform to another in complete transparency for customers.

A DNS address server
No hardware reconfiguration
An Orpheon service available immediately on another platform
A transparent and serene rocker
Your connection settings should be changed with the appropriate Orpheon DNS.
How do I check the DNS settings for my connection to the Orpheon network ?
(Click to see details)
Two DNS are provided to replace the IP address depending on the correction platform used for your equipment either:
Plateforme Spider Leica :     ntrip.reseau-orpheon.fr 

ou bien

Plateforme Trimble Pivot:    ntrip2.reseau-orpheon.fr
Important: Since January 2017 you can find this information on your delivery note with all the connection parameters
PORT IP
DNS À UTILISER
6000
ntrip.reseau-orpheon.fr
6500
7500
8500
2101
ntrip2.reseau-orpheon.fr
2102
Increased monitoring
The implementation of identical and distant platforms allows us to have homogeneous and standardized installations within the Hexagon group. This homogeneity thus makes it possible to extend the size of our support teams and allows them to intervene at any time, 24 hours a day, regardless of the place or the country where our support engineers are based.
High surveillance 24 hours a day
Homogeneity of installations
Shared technical support