Updated Friday, September 13, 2019
Ask for the original
For satellite positioning, since October 2017 the Orphéon network has allowed its customers to benefit from RTK and NRTK corrections for all GNSS constellations, in particular Galilleo and Beidou, in addition to GPS and Glonass. We have done a lot of work to provide our customers with this service first and become the first full GNSS network operational in France and the West Indies.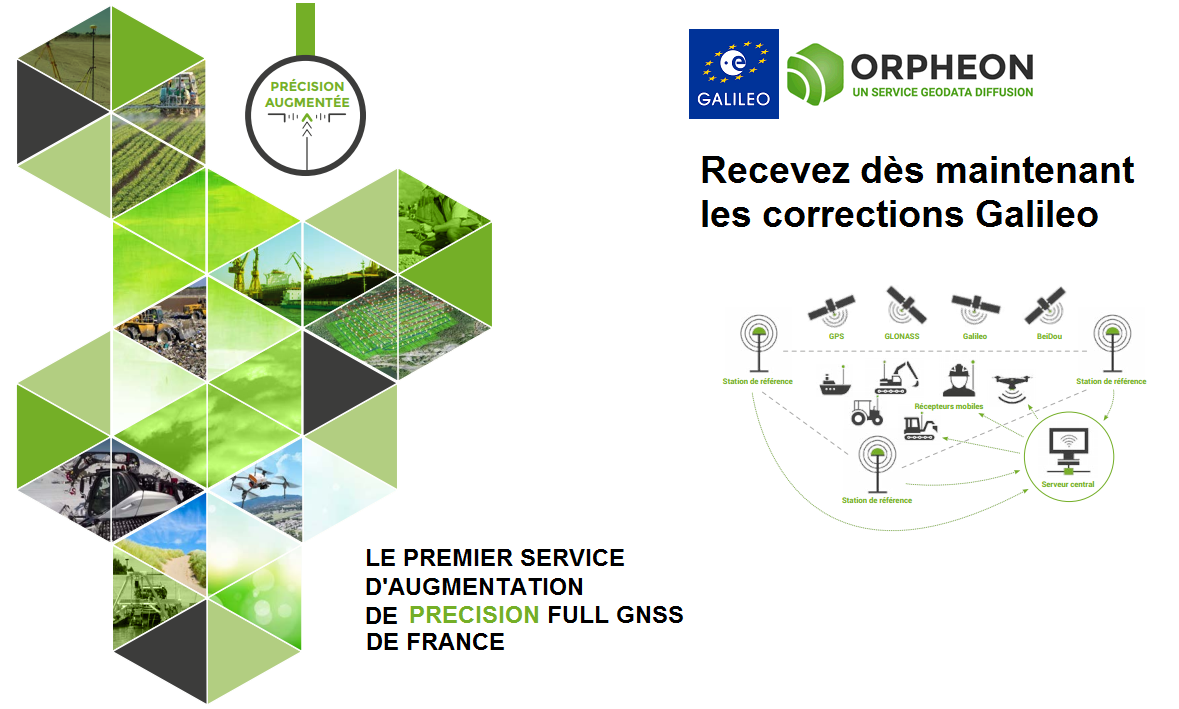 Full GNSS
Full GNSS (for Geolocation and Navigation by a Satellite System) is a term that designates positioning equipment or installations capable of using all the satellite constellations available for their calculations.
Increased productivity and positioning quality
What we now call Full GNSS is the addition of two additional constellations with the 22 Galileo satellites and the 33 BeiDou to the GPS and GLONASS satellites, which allows you to significantly increase the number of satellites observed simultaneously by your receiver. GNSS. With Full GNSS you work further and longer in wooded areas or bordered by buildings, where some satellites are hidden or even unusable by the equipment while maintaining a correct and precise geo-referenced position. Full GNSS also offers faster access to precise and more stable positioning thanks to the third frequency GPS and Galileo (L5) allowing easier resolution of phase ambiguities and rejection of multipaths.
GPS Satellites Active in 2019
GPS: As of August 2019, 74 Global Positioning System navigation satellites had been launched, of which 31 were operational, 9 in reserve, 2 under test, 30 had been retired and 2 had been lost at the time. of the launch. The constellation requires at least 24 operational satellites and the number of official targets is 33.
Galileo: has 30 satellites (24 operational and 6 in reserve). Galileo began offering early operational service on December 15, 2016, reaching full operational capability in 2019.
Glonass: As of May 2019, 138 GLONASS navigation satellites had been launched, of which 126 had reached the correct orbit and 24 were currently operational.
Beidou: BeiDou-3 third-generation BeiDou system will eventually include 35 satellites and is expected to provide global services when completed in 2020

In your professional practice, to meet your missions and your obligations, you can rely on the centimeter precision of the Orphéon network.
All networks not yet at the level
All the networks in France have not yet done this long and very costly work…far from it. Since October 2017, many announcements have been made around beautiful presentations by smart guys who play on words in their communications to try to hide their delay and to make people think that their network also delivers GPS + Glonass + Galileo + Beidou corrections (what we call Full GNSS) for NRTK services. On closer inspection, it is easy to unmask these dubious and crude practices so as not to be caught.
questionable practices
At the limit of dubious commercial practice, it is above all and above all the buyers, customers and professionals in the field who are deceived about the quality of the services they think they are paying for. By speaking of a "Full GNSS compatible" network for example, the unscrupulous operator may just mean that his installations are technically compatible but not necessarily operational and that the full GNSS NRTK corrections are not actually delivered to their customers. Some GNSS network operators benefit from the data sharing of some reference station owners but are not in control. Thus, as long as the official owner has not decided to invest so that his station becomes Galileo and Beidou compatible, the station remains GPS and Glonass. What presented an advantage for a rapid extension of the network a few years ago, is now becoming an obstacle to its development. Under these conditions, the correction services offered can only be single-base in the best case for less than ten stations throughout mainland France. The most widespread and requested Network-RTK correction services do not have all the constellations and remain only GPS and Glonass. It is also important to avoid these unstable solutions made up of a patchwork of equipment of all brands or an overlay of calculation software from different brands that are difficult to interface with each other. The result obtained to constitute a solution which finally provides unstable measurements (jumps of coordinates or erroneous uncorrected data).
Customers forced to be wary
Legally, this information, because it is technical and partial, is difficult to question. It is therefore up to the customers of these networks to check which services are actually offered by these operators and which means are actually implemented.
A very simple control
Each user of an NRTK correction network can thus very simply verify the reality of the Full GNSS services that he actually receives.
Are the constellations operational on the reference stations and used in the correction calculation solution?
Is the list of mount points that displays RTCM-MSM Network and not just single base? Also check the list of stations around you… Galileo stations are still so rare with these operators.
If the network is referenced on the RGP site, with a simple click, it is possible to view all the impartial information relating to each of the reference stations to be sure.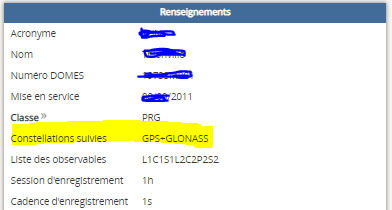 Moreover, if in the list of mounting points proposed by the network operator, there is not at least one point proposed in the RTCM-3.x MSM (RTK Full GNSS) format, there can be serious doubts. permit. Finally, on some Full GNSS equipment, you can view the number of satellites used in the NRTK correction calculation solution. If these figures remain at zero, there again doubts can be allowed.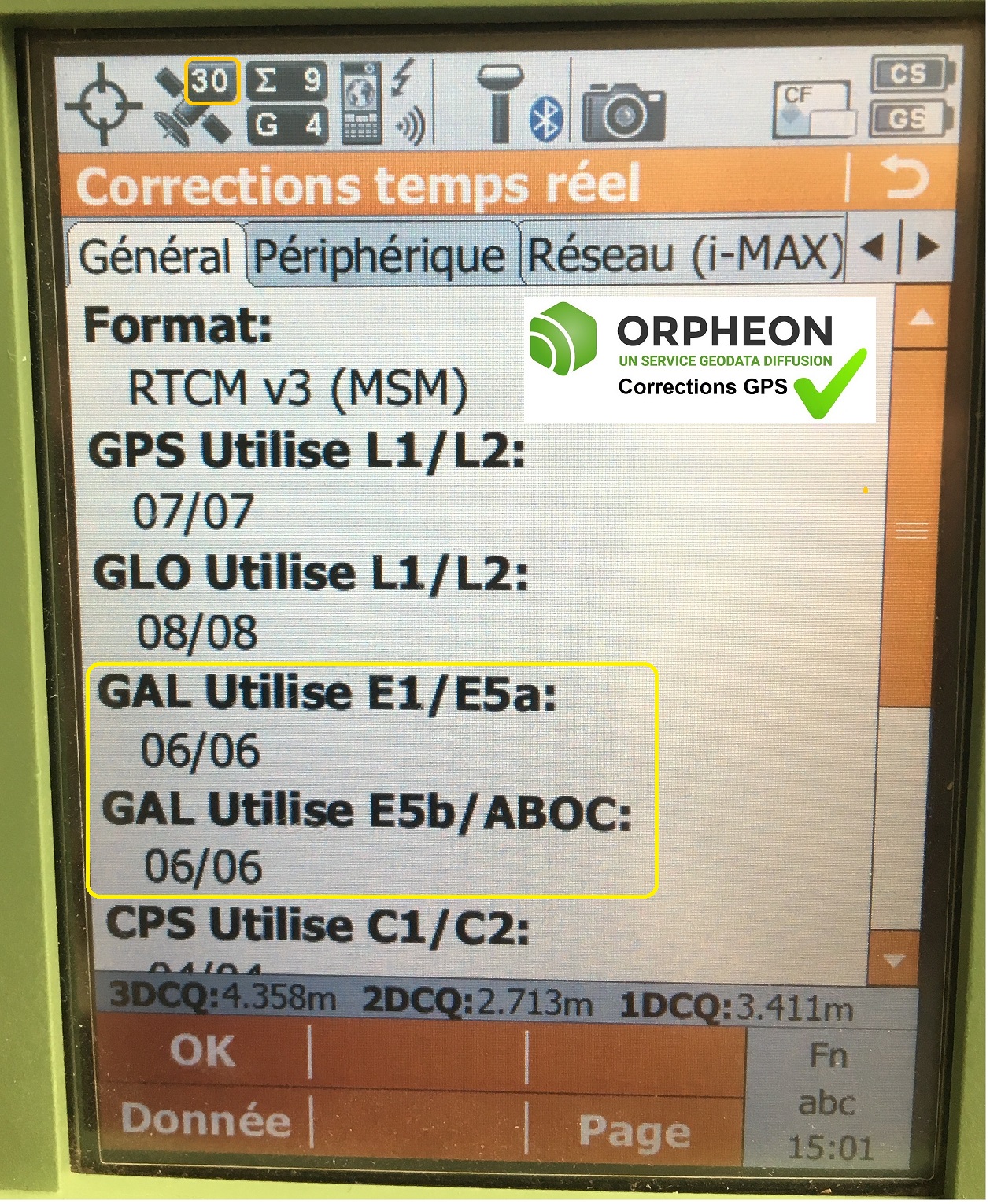 The Orpheon commitment
Géodata Diffusion continues to develop the quality of the services of the Orphéon network through personalized support, responsive technical assistance and continuous improvement of its infrastructures. Our goal is to offer our customers a high quality and innovative secure service, guaranteeing them a high and constant rate of use wherever they are, throughout the territory. For this, we use a complete and coherent solution from a major manufacturer: Leica Geosystems. Whether it concerns all of our reference stations or our calculation software, we are thus guaranteed the compatibility and perfect integration of each of the components we use.
Necessary investments
Because we have made the necessary efforts and investments, the Orphéon network remains to this day the only 100% operational NRTK network delivering GPS + Glonass + Galileo + Beidou correction services. For this in 2017, we replaced 85 reference stations in order to ensure the total compatibility of our installations. Since then, all of our reference stations have been able to process all GNSS constellations to deliver very high quality NRTK corrections. We have activated full GNSS licenses for each of the stations. Then, the network calculation and management software was also updated to process the different constellations in the calculation solutions.
...Voir : Plan de modernisation continu du réseau Orphéon (2017-2019)
A complete installation
The Orphéon network ensured that all the reference stations used and that the Spider calculation line was fully deployed and functional before announcing that Full GNSS services were available for its customers. Even in the sharing of border stations, we made sure that the services were really 100% full GNSS.
What advantages for high precision NRTK?
To take advantage of the modernization of the Orphéon network it is important to understand the advantages that the additional Galileo and Beidou signals offer for NRTK positioning. Through case studies integrating baseline length, multipath and canopy, the results confirm that the Galileo constellation is usable for high precision NRTK positioning purposes and show availability, accuracy, improved reliability and fix time in harsh viewing environments.
Article published in XYZ Magazine March 2018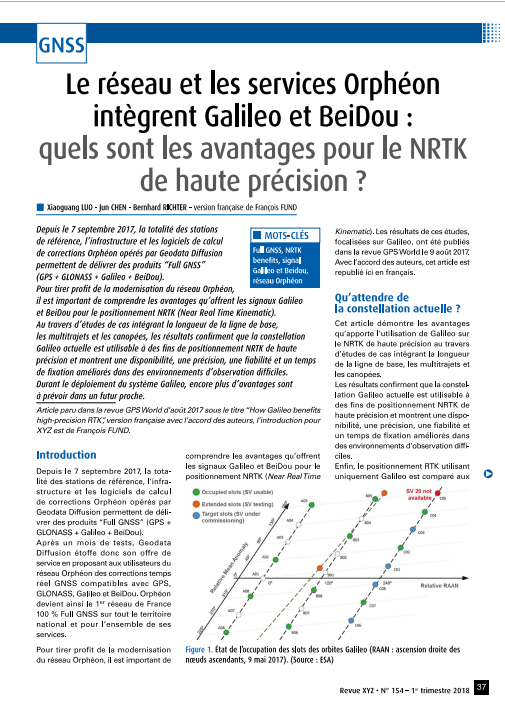 Cliquer sur l'image pour accéder à l'article
By providing the first RTK Galileo full GNSS GPS corrections available in France, the Orpheon network demonstrates the strength of its commitment and the relevance of its technological choices in the daily service of its customers.

Our customers are not mistaken, every day more numerous, they confirm their confidence in us and we thank them.

In order to offer offers perfectly adapted to the needs of users, we have designed several subscription formulas. Our commercial offer is very clear and very flexible. So, in complete transparency, you only pay for what you really need.
Orphéon subscriptions are marketed also in France by a distribution network of more than 40 agencies, representing all brands of equipment. Depending on your specialty, contact your usual distributor without hesitation (Find your Orpheon distributor), he will know, better than anyone, how to answer you and support you in your projects.