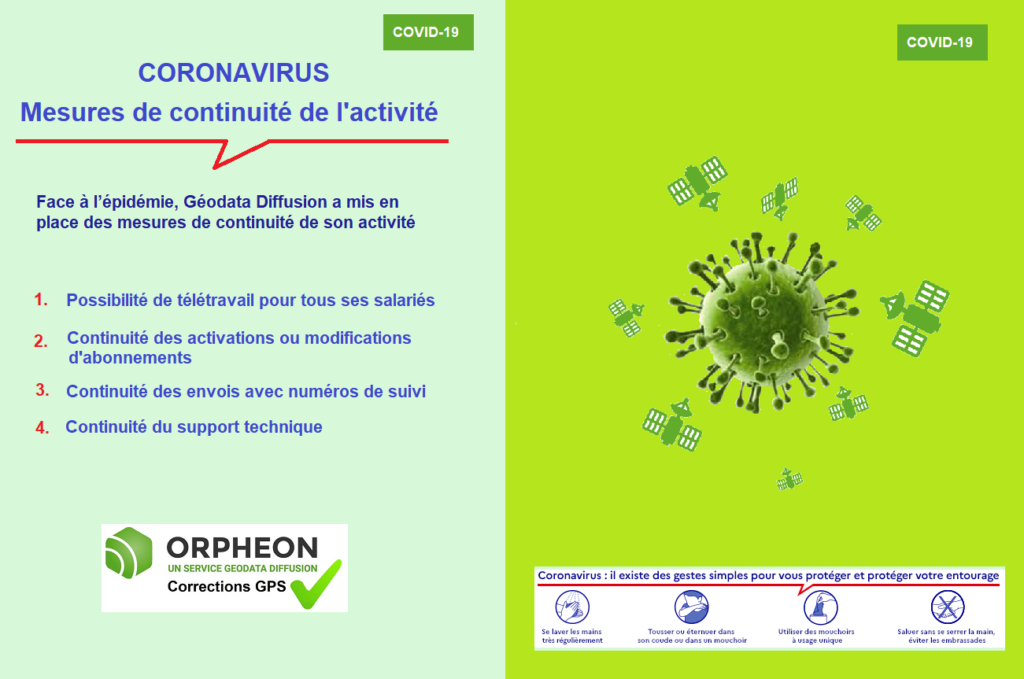 Faced with the Coronavirus epidemic, Géodata Diffusion has implemented business continuity measures like many companies today in France.
We must both protect our employees from possible infectious risks but also, as far as possible, allow our customers to continue to work in good conditions.
In addition to the various internal information and recommendations for our employees, we have also put in place measures for the continuity of our services.
Indeed, many economic players with very different profiles use our real-time RTK correction services on a daily basis. These varied profiles mean that the epidemic can have a very different impact on each of them. We do not want a possible slowdown in our services to add to the problem.
Here is how we organize ourselves to ensure this continuity:
Possibility of teleworking for all our employees
Depending on the evolution of the situation and individual circumstances, we have set up the possibility of teleworking for each of our employees. Some minor adaptations are to be expected, but our tools and our organization already allow us this flexibility solution without impacting our daily activity.
Continuity of subscription activations and modifications
Whether we are present in the offices or working remotely, we will be able to register all requests for subscriptions or modifications as we currently do. But also, we continue to monitor the various deadlines to be able to notify our customers in due time for the continuity of their services.
Continuity of shipments with tracking numbers
In the same way, we have organized ourselves in order to continue to be able to send SIM cards by registered mail. We were able to build up small buffer stocks to meet the different demands.
Continuity of technical support
The first level of technical support is primarily supported by our partner network of distributors. Given their number, their diversity and their distribution throughout the territory, they will remain reachable.
Our technical support team has tools for monitoring the network or accessing the telephone system that can remain accessible wherever they are. In addition, we have the support of various international teams who are also able to ensure the continuous supervision of our installations.
This secure infrastructure, set up and managed by the Hexagon group, allows the pooling of technical support resources within the group for all countries whose management is centralized.
Backed up network
As always, our servers are hosted within the Hexagon group, thus ensuring the continuity of services thanks to two separate hosting sites in two different countries.
The implementation of identical and distant platforms allows us to have homogeneous and standardized installations within the group. This homogeneity thus makes it possible to extend the size of our support teams and allows them to intervene at any time, 24 hours a day, regardless of the place or the country where our support engineers are based.
High surveillance 24 hours a day
Homogeneity of installations
Shared technical support
This organization also makes it possible to offer a service available 24/7 and to offer one of the highest availability rates on the market.