You are looking for an RTK service for your GPS autoguiding ?
The Orphéon network accompanies you in your multiple works throughout the year, over the seasons with:
Adapted rates
Without entrance fee
Homogeneous national coverage
Centimeter precision everywhere
Compatibility with all brands of GPS
A secure service
A very high availability rate
Responsive technical support
Provide RTK GPS corrections
The Orphéon network is made up of nearly 220 observation stations, spread over the entire territory of metropolitan France and the West Indies.
All of our stations form a large balanced network that allows us to deliver RTK corrections to our many customers throughout France to increase the accuracy of their precision GPS. Our various services are marketed in the form of subscriptions or hourly packages.
The best network at the service of agriculture
The Orphéon network supports you in your multiple tasks, even the most difficult, throughout the year, over the seasons and also supports innovations when it comes to precision.
The RTK Orphéon signal is also compatible with all brands of equipment used in agriculture. Its availability and reliability also make it comfortable to use on a day-to-day basis, day and night.
Why choose Orpheon :
Precision GPS RTK positioning: a specialist job
Orphéon is the 1st permanent network for Full GNSS precision augmentation throughout the national territory.
The management of this Orphéon network is our only activity
We have a team dedicated to maintenance and technical support to ensure the best availability of service 24 hours a day.
National coverage:
Irreproachable Full GNSS precision, for all the cultivation work from the simplest to the most demanding, a service availability rate, no limit to the radius of action.
The Orphéon network covers the entire metropolitan territory, its unique dense mesh means you are never more than 30km from a reference base station.
We offer the most regular network structure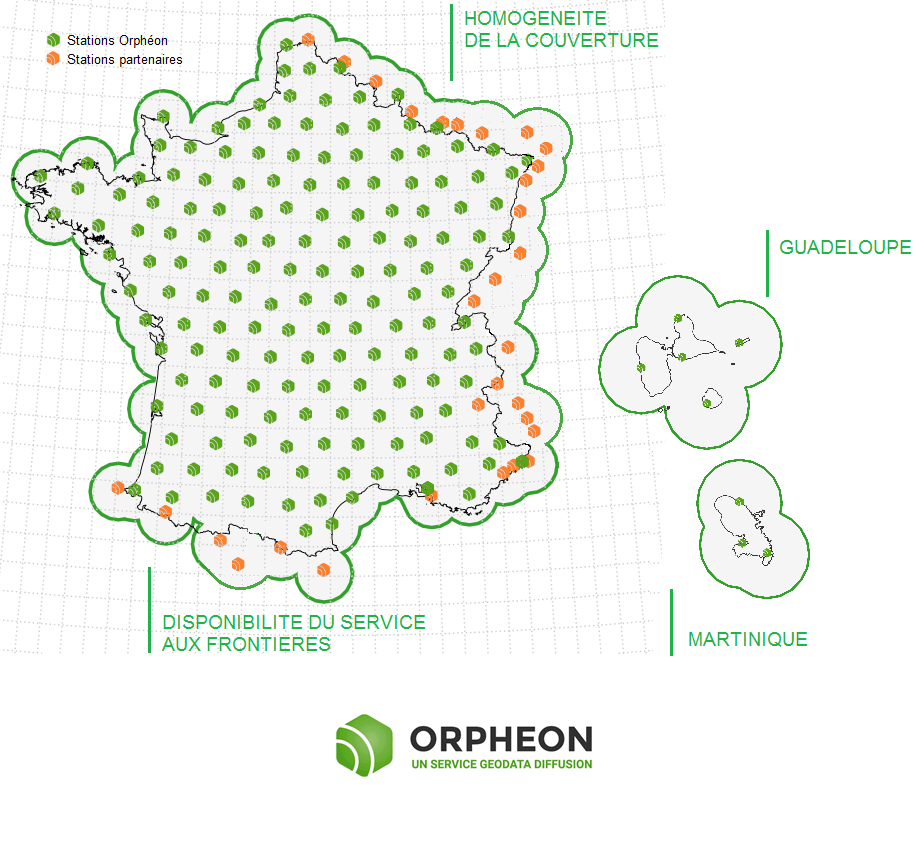 Click on the map to access the interactive network map
The drop in our prices since 2016
Allows you to access the best of RTK technology and the excellence of our services for a reasonable price.
With Orpheon, preparation work is reduced to a minimum and you can start working faster. Everything has been thought out to allow you to benefit from increased productivity.
1/ RTK network subscriptions: premium services at affordable prices
2/ Adjusted Mono-Station RTK Services
3/ RTK hourly packages without commitment
4/ SIM cards (mobile internet)
The highest availability rate on the market
The strength of the Orphéon network is to share infrastructures and the most qualified European technical teams to guarantee identical control procedures over the entire coverage area, continuous and regular reinforced monitoring of all stations and the network. This international technical team from a major manufacturer is responsible for supervising all installations 24 hours a day, 365 days.

RTK precision positioning makes it possible to intervene again on the row while preserving your plans, for new cultivation practices such as strip-till or weeding.

The availability of the service gives the possibility of working from day to night, in foggy weather, etc. by focusing his attention on the GPS guidance tool and no longer on driving for an always impeccable result.

Repeatability over the seasons, the network allows you to always go back to the same place to control soil compaction and allow plants to take root better and the soil to better absorb inputs by limiting runoff phenomena. but also preserve your cultivation methods and techniques.

The automatic modulation of seeds, fertilizers and phytosanitary products becomes possible by using recommendation maps (yield maps, soil analysis maps, FARMSTAR) or on-board sensors (YARA type for example), but also thanks to the recommendations of experts cooperatives.

Concretely, it is a question of taking advantage of GPS autoguiding in order to optimize tillage, sowing, spreading and harvesting operations by minimizing the overlaps between passages thereby making it possible to optimize machine time, fuel consumption, tool wear and payroll.

The Precision Agriculture offer
A specific offer of packages and subscriptions corresponding to your needs and adapted to your operation.
The Premium Orpheon offer
These network subscriptions give access to unlimited Real-Time correction services for NRTK Full GNSS centimetric repeatable GPS + Glonass + Galileo + BeiDou network corrections.
Affordable precision
This type of correction makes it possible to achieve centimetric precision according to the specifications of the GNSS equipment used and the distance separating it from the ORPHEON station to which you are connected.
The non-binding offer
This is access to centimeter-accurate (GPS, Glonass) N-RTK GNSS correction network. Often used to discover our services.
Mobile Internet access
To save you additional steps and expenses, we have forged close partnerships with the major French mobile operators SFR and Orange to provide you with SIM cards for mobile internet at the best conditions.
Network and subscription monitoring
The free Orpheon application gives you access from your smartphone to a large number of very practical and complementary features of your subscription or your hourly package.